Lessen your Golf Course environmental footprint!
Every development has an impact on the environment.  With the state of the environment today, to lessen the impact or footprint is not only important but necessary.  Furthermore, the EIA requirements are becoming increasingly stringent, as well as public interest groups becoming more involved.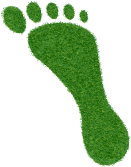 On-Course Solutions will help to successfully Lessen your Golf Course Environmental Footprint.
Our Environmental Solutions Include:
Hydro Seeding without additives;

Hydro Seeding applications applied once, thereby conserving water usage;

Bunker stabilization without geotextiles, plastic mats, or bitumen;


Cart Paths constructed with in-situ material thereby negating or significantly decreasing the need for cement or imported aggregate material;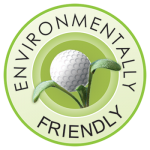 Our Golf Course products are safe for the environment!
Do not leach into the soil

Do not have any visual impact on environment as products are clear and transparent

Have passed Aquatic and Environmental Toxicity Reports
We offer real environmental solutions which can be easily & cost effectively implemented to reduce your Golf Course Environmental footprint significantly!
Reduce your Golf Course Environmental footprint with our Products:

Hydrotac is completely environmentally safe (non-toxic, non-hazardous, safe and easy to apply) and will result in a decrease of the enviromantal impact of golf course developement as Hydrotac™ eliminates the need to use other products which according to Audubon international have the following ecological effects:
Pollution of ground water and surface water caused by use of pesticides, fertilizers and other components.

Poor stream water quality due to eroding shorelines

Withdrawal of large quantities of water for irrigation

Degradation or loss of natural areas

Health hazards from chemical handling and applications

Negative impacts of chemical use on "Non-target" wildlife

Unsound turf management driven by increasing and unrealistic golfer expectations and demands.
The case studies conducted proved that the Hydrotac™ hydro seeding mixture only had to be applied once, not the normal four-six times as was required when Hydrotac™ was not in use.

The Bunker Stabilization method developed by On-Course Solutions is totally unique and provides the most environmentally friendly solution of any other method, period.
There is no other method used to stabilize bunkers and prevent erosion which provides less of an environmental impact  than Bunktertac applied in accordance with On-Course specifications.

A typical golf course has between 8-15 km of cart paths.  The construction, use and maintenance of these paths are perhaps one of the largest areas of environmental impact, and definetly have an impact on the natural visual of the course.
The traditional use of cement, asphalt or bitumen on cart paths creates a huge environmental footprint and permanently alters the landscape forever.