We recommend Turfgrass Consulting for your Golf Course agronomic consulting.

Turfgrass Consulting – The initial stages of any golf course development are critical for the success of the course 
The choice of grass, how and when it is planted and maintained are decisions which will continuously influence the status of a course.  The best investment is being assured of the best advice in the beginning.
Turfgrass Consulting
Turfgrass Consulting offers a complete range of services from new construction to open for play facilities worldwide.
Turfgrass Consulting led by Dave McIntosh one of the world's most experienced agronomist together with his partner Ed Hodnett , who also has 25 years experience, allow any golf developer an important advantage in providing the best advise gained over generations of experience.
Turfgrass Consulting has an impressive and extensive list of completed courses with the world's top designers, including Nicklaus Design, Els Design, Gary Player, and Price, and has worked around the world, having supplied services to over 80 different courses in 53 countries. 
The right choice will prove to be not only cost efficient but will result in cost savings over the long term as well as reduced maintenance.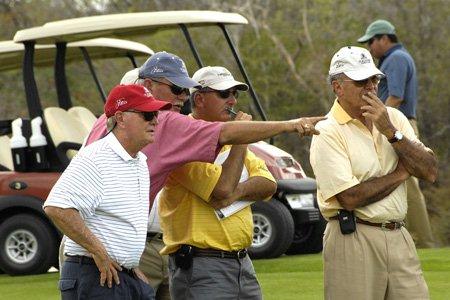 Dave consulting with Jack Nicklaus Yucatan CC, Mexico
Pre construction consulting

Water and irrigation needs

Working with the design team to accomplish their goals

Post construction management
Open for play facility consulting:
Complete review of facilities agronomic programs

Due diligence for selling or buying of properties

Recommendations for improvement of playing surfaces

On going work with golf course Superintendent and ownership
GET THE REAL THING. Certified, licensed turfgrasses are the only choice for quality golf and sports field projects. Backed by extensive research, superior
design, and unmatched quality, legitimate turfgrasses from licensed distributors ensure that your project gets the turfgrass and performance that you expect.
Turfgrass Consulting your advantage for the most important part of your golf course.
The Turfgrass Consulting team has the ability to help our clients produce the most cost effective playing surfaces at any level.